American Graffiti (1973)
When: Wednesday July 1st | 21:30 (DRIVE-IN screening)
Where: Temple of Olympian Zeus (entrance from Amalias Avenue) | Free Entrance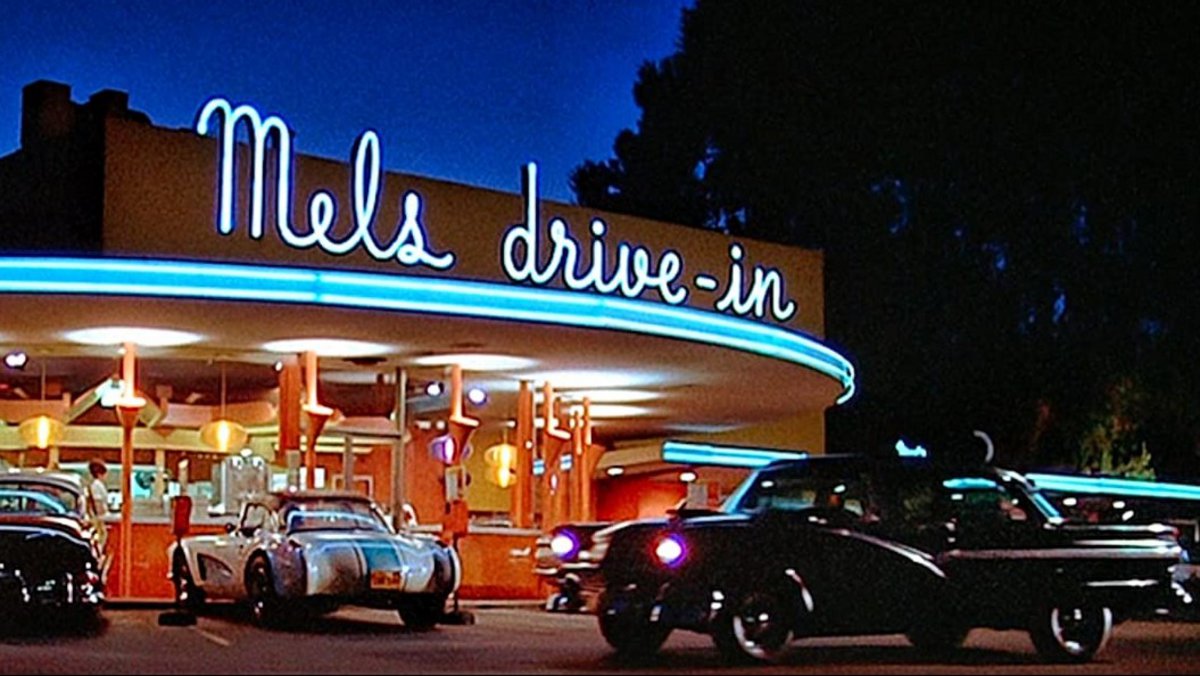 Director: George Lucas
Starring: Richard Dreyfuss, Ron Howard, Paul Le Mat, Candy Clark, Harrison Ford
Duration: 110'
Production Year: 1973
Before traveling to "a galaxy far far away", George Lucas pointed his camera to something smaller, but meaningful. "American Graffiti" produced by his best friend Francis Ford Copola conceives the carefree spirit of 1962 in a low budget of 750 thousand dollars and represents the bitter-sweet postcard of America, just before the financial and social deviation. In the next to years, the country would enter the Vietnam War and president John Kennedy would be assassinated.
Like an addictive rock'n'roll song, "American Graffiti" substantiates the teen innocence and the juvenile impulse of a group right before adulthood, at the time where it confronts the uncertainty of the choices that define it. Drive-ins, restaurants lit by pastel neon colors, waitresses in roller-blades and school proms do not prepare after all an optimistic future, but place inevitably a nostalgic full-stop. The multitude of characters loses the safety net of the funny moments and the rushed high-spirits. In the finale everyone must grow up and the age of innocence comes to its irrevocable end.
Until that happens, however, Lucas encloses the definition of a carefree, bitter-sweet and nostalgic film into a wonderful hymn to youth. He dynamites the screen with a disarming, triple platinum soundtrack signed by The Beach Boys, Chuck Berry, The Platters and offers the audience radiant "youth slogans" of a distinguishing cast of future stars (Richard Dreyfuss, Harrison Ford, Ron Howard, Kathleen Quinlan). Panos Gkenas
Screening supported by the US Embassy Athens. The film is granted by Tulip Entertainment.
IMPORTANT INSTRUCTIONS regarding the arrival of the audience to the screenings
In order to secure the protection of public health and the smooth flow of our viewers at the screenings, we inform you that:
- The entrance to the screening location will be realized with ENTRY PASSES and in strict compliance with the necessary distance between the people who are interested in attending.
- Regarding the DRIVE-IN screening at Lycabettus Hill (Wednesday July 1st, 21h30) the distribution of the entry passes will be realized ONLINE. Please fill out the form below:
free entrance for cars: https://forms.gle/xfDCG8adtnjFaBG98
free entrance for motorbikes: https://forms.gle/TZ8VVCywuCNfAB838